Aquaman - 12/13/2018
Well, I decided that since it was going to be a HUGE movie I would go ahead and see Aquaman. First of all, YES ladies Jason Mamoa is as dreamy as you would think he is. Many, many shirtless scenes without him. And this movie did exactly what I thought it was going to do which goes against my entire childhood. This movie made Aquaman an ass whooping machine, and growing up all he did was talk to fish. Now, he has super strength and dark hair. He was a blonde growing up. But as far as the movie goes, Aquaman is brought back to the sea to save a potential war that is going to happen between the water people and the surface dwellers. And you will have to see this movie to see if he is worthy enough to do so. All in all lots of action, they try to be funny in some parts. Nicole Kidman looks really, really old in this movie, and my biggest complaint is that they didn't even show the hot looking redhead in a bikini or swimsuit!!!! We find out that Ivan Drago has a new home since his son lost to Creed's son a few weeks ago as well. I would say that if you have to see this movie than see it in the theater but if your like me and feel like holding back because do sharks really need freakin' lasers to hurt people, then wait for it on regular cable.
Creed 2 - 11/21/2018
Well DAMN!!!!!!!!! If I didn't know any better I would think that I was put in a time machine and taken back to the last time a Drago was in a Rocky movie. And all I have to say is that this has lived up to be a part of this great Rocky saga of movies!!! WOW! I have to admit that I wasn't the biggest fan of the first Creed movie especially the fact that Apollo Creed is one of the greatest movie characters of all time. But this time is a whole lot different. So if you don't remember Rocky 4 thats the one where Apollo takes on Ivan Drago and spoiler alert, 30 years later, Drago kills him. Now it's Creed's son taking on Drago's son and this movie is really cool. The training scenes reminded me of the old Rocky movies and the fight scenes were amazing as well. Sure there have been some TERRIBLE Rocky movies made. Tommy Morrison one, and the one where they try and get us to believe that Rocky is going to get in the ring with the current champ. But this movie is right up there with parts 1,2, 3 and 4 as one of the better told Rocky/Adonis Creed stories. If you were a Rocky fan growing up I don't know what you are still doing reading this instead of being on your way to the theater because this is an AWESOME movie!!!!!!! See it on the BIG SCREEN for sure.
Bohemian Rhapsody - 11/2/2018
So for the longest time I have said that Freddie Mercury is the GREATEST lead singer in the history of rock bands. This movie only CEMENTS that!!!!!!! This is a G R E A T movie about the band Queen. It takes you from the very beginning, up until almost the sad end of things. Rami Malek does probably one of the best jobs capturing the inner workings of Freddie Mercury that could ever be done. As far as biography movies goes I really do appreciate the fact that Malek didn't even try to capture the voice, but lip sank instead because there is only ONE Freddie. I would say this is right up there with Jamie Foxx as Ray Charles and leaps and bounds ahead of Jouquin Phoenix as Johnny Cash. The rest of the cast was great as well, but face it this movie is the story about the lead singer of an exceptional band. If you are a Queen fan then this movie is a MUST see especially on the big screen, if your not a fan, I would say watch this movie because it shows you the genius and the stupidity of this band during it's run. I say this is a big screen full price movie to see, but then again, I'm a fan of Queen.
Halloween - 10/21/2018
Ok, so I saw the newest Halloween movie and I have to say that as far as horror movies goes it wasn't too bad. The one thing I will say is that it is more scare than gore, which I was very happy to see. The story is kind of dumb, but most horror movies are. Micheal Myers is being transferred to another mental hospital and of course they are doing it the day before Halloween. What could go wrong? Well of course something does go wrong and Micheal is on the loose again. This time Jamie Lee Curtis is ready for him and she has been training her whole life for this moment. Now that he is out he terrorizes the same town once again and the police even know he is on the lose but of course no more police presence than usual. This movie follows all the stupid plot lines that every horror movie does, where you are saying, "Don't go in there" and "Look behind you". All in all its a fun scary movie to see and I have to say that there really isn't closure in the movie as I'm trying NOT to ruin this movie for you just yet!!!!!! I would say that this is worth seeing on HBO unless you just HAVE to see it at the theaters. Not horrible but for sure NOT great.
Equalizer 2 - 7/22/2018
Well, I have to say that I have been excited about a movie in a long time like I was excited for the new Denzel Washington movie The Equalizer 2 since the first one is one of my favorite movies that he has EVER made. I went to the first showing of the movie and was really pumped for it to start. A big complaint from the first one is that it took too long for the action to start. Not so with this one. The action is at the beginning. But that's the problem is that between that action and the next action is like my sex life. A LOT of down time!!!!! To say that I was disappointed in this movie is the understatement of the year. I was SO bummed out about how BAD this movie was. And yes, I mean bad as in terrible, awful, waste of time, NOTHING LIKE THE FIRST ONE!!!!!! I can't believe how bad of a follow up this movie was. I expected so much more from Robert McCall's character but instead he becomes a mentor to an artist and is a Lyft driver now. Sure there is some action in the movie but nothing kick ass like in the first one where he kills a guy with a shot glass!!!!! I hope it does well in the box office just so they can redeem themselves with a part 3. But as for rating this movie, I'd say wait until it's on HBO at the very best. Hell, this is one that you could probably wait to see of FX because it's NOT GOOD at all!!!!!!!!!!!!
Ant-Man and the Wasp - 7/8/2018
So this weekend after feasting on Chicken Wings from Slaters Ding-a-Wing who SHOULD have won all the categories but I digress, I saw the new Paul Rudd Ant Man movie. To be honest with everyone I wasn't the worlds biggest fan of the last Ant Man movie because I do believe that he is a stupid "super" hero. But I did go into this movie with an open mind.. And just like the last one this is about who can shrink down to the size of an ant and fight crime. Because that's all we all envision our hero's as, the same as the creepy things that ruin a picnic. Now they have added a whole other character a Wasp, because nothing says safety like getting stung by a flying bug!! Well this one picks up kinda where the last one ended as Paul Rudd is still a convict and is at the end of his house arrest term and is needed in action. That's when he teams up with the angry Wasp and takes on all the bad guys. Thank God the bad guys have never heard of Raid or Off otherwise this movie wouldn't have been as long as it was. I knew that I wasn't going to like this movie going into it but I was wondering if I was going to hate it as much as I hated the first one and I have to say that because the chick that was playing the Wasp was pretty hot which mean that I didn't hate it as much as the first one. Sure it's as dumb and lame as the first one but at least the eye candy got me through this one. In my reviewing system I would say that this movie is one you can wait for to hit HBO or Showtime. Don't see it in the theater or even on PPV. Maybe next time Paul Rudd.
Gotti - 6/27/2018
So this movie was supposed to come out about six or seven months ago but because it did SO well at Cannes they decided to spend some more money and put more into it. I would really have rather seen the version that was at Cannes. I can't really say that this movie was really bad, but I know that I can't say that this movie was really any good either. John Travolta plays the legendary mob boss and head of a major crime family in New York. I did feel a little Vinnie Barbarino and was really glad he didn't say "WHAT, WHERE?" or ask for Mr. Kotter. The one good thing about the movie is that it did sort of show the early days of John Gotti, but it didn't really go into a lot of depth of the character, like where he came from and what made him that way. That I think was missing the most in this movie. There really aren't a bunch of stars to help this movie along either and I was hoping for some of the Saprano's cast to make appearances but NO!!!!!! All and all this movie was VERY VERY lackluster to say the least. So, as I rate movies this on is probably worth seeing on cable just due to the fact of all the cursing the was necessary for a mob movie, but not pay per view, and for sure not worth seeing in the theaters.
Jurassic World - Fallen Kingdom - 6/17/2018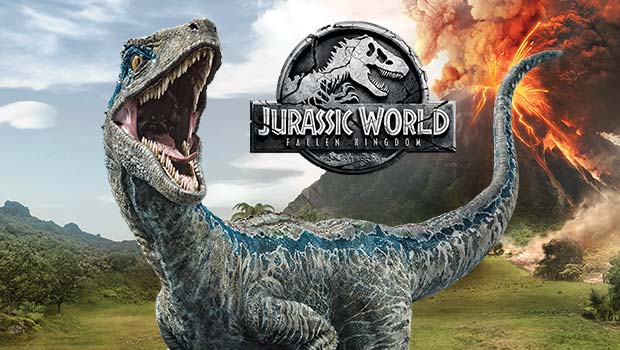 So this weekend I was lucky enough to get to see an advanced screening of the new Jurassic World movie and let me say that this is by far the DUMBEST of them all!!!!!!!! I know, I know, don't ruin the movie for us and I promise I'm not but I have to say that the premise behind this movie is a big hunk of shit. Look, I got over the fact that the dinosaurs were extinct in all the first ones and I played along with them. But for this one, I'm not playing along at all. Like I said I don't want to ruin it but when you find out how the dinosaurs are being used I dare you to not stand up in the theater and yell REALLY??????? This has NOTHING to do with the park or visitors or really anything that the first movies had to do with. This is just plane STUPID!!!!!!! I'm SO glad I didn't have to pay a cent to see this pile of crap. If you have been a fan of these movies I DARE you to remain a fan. And as far as reviews go, I really wish that I would have waiting until TNT was running a marathon of these movies and all the other channels had the Kardashians on!!! That's right this movie is about free TV and only because NOTHING else is on. Hell, I'd rather read!!!!!!!!!
Han Solo - 5/25/2018
Alright, here we go, time for the Han Solo movie that I have actually been looking forward to for quite some time. Was I blown away??? The answer is not really! Was I disappointed? The answer is not really! To me it was really only a Star Wars movie because there was a Wookie in it, the Milienium Falcon was in it and some of the music was in it. Trying to give Han Solo the personality that he had a few years later in this movie was somewhat of a stretch, sure he was green in the ways of smuggling but learned very quickly. I can't say that I hated the guy playing Han, but I'm sorry the only Lando that I will ever recognize is Billy D. Williams. Donald Glover seemed a bit over the top in the role. Now there is a giant love story that really does seem to get in the way of this movie but there are ways to get around it. All in all if you are a diehard Star Wars fan you will have to see and judge it for yourself. But I would have to say that at best for me this should have been a pay per view feature for me to get.
Close